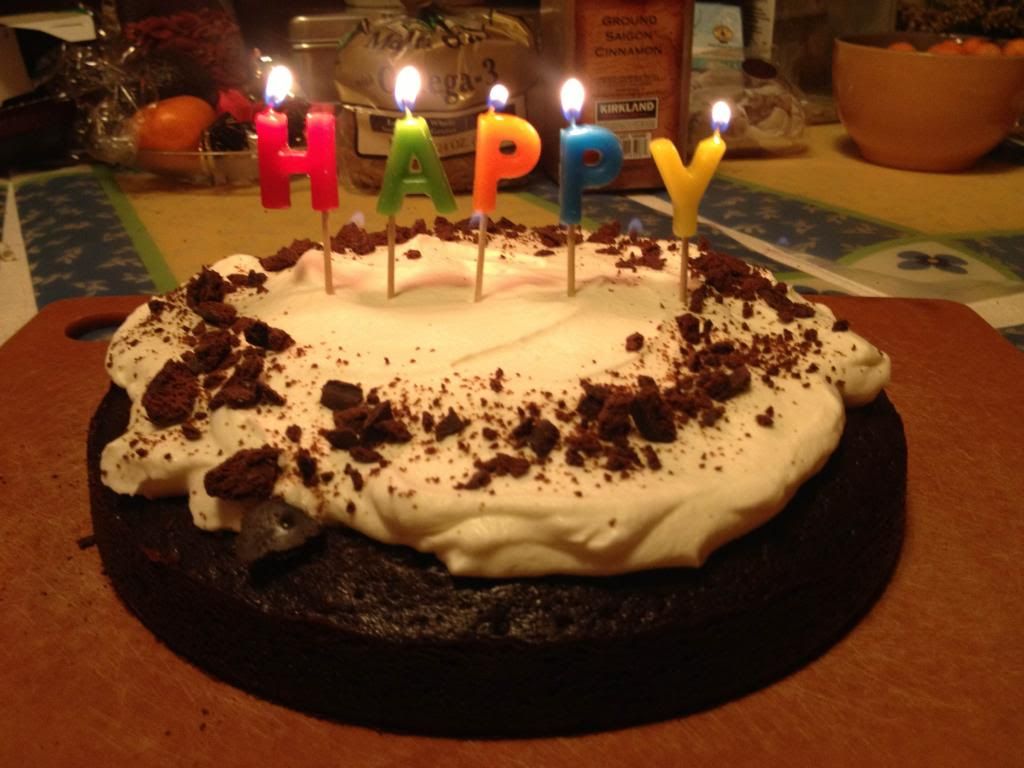 Happy birthday to my brother!
Adapted from Epicurious.
Cake
1 cup stout (such as Guinness)
3/4 to 1 cup unsalted butter
3/4 cup unsweetened cocoa powder
1/2 tsp baking soda
2 cups all purpose flour
1 1/2 cups sugar
1/2 tablespoon baking soda
3/4 teaspoons salt
2 large eggs
2/3 cups sour cream

Topping
1/2 cup heavy whipping cream, cold
2 Tbsp powdered sugar
Preheat oven to 325°F. Line and butter a 9" springform pan and a half muffin pan (for 6 regular muffins).
For cake:  Bring stout and butter to a simmer over medium heat. Whisk together cocoa powder with ½ tsp baking soda. Add cocoa powder mixture into warm stout mixture and whisk until smooth. Cool slightly.
Whisk flour, sugar, ½ Tbsp baking soda, and salt in large bowl to blend. Using an electric mixer, beat eggs and sour cream in another large bowl to blend. Add stout-chocolate mixture to egg mixture and beat just to combine. Fold in flour mixture.
Pour batter in 9" springform pan until about ½ full, and divide remaining batter among the muffin wells. Bake cake and cupcake until toothpick inserted into center of cakes comes out clean, about 30 minutes for the cupcakes and 40 minutes for the 9" cake. Let cool in pan for at least 10 minutes before moving to serving platter.
For topping: Whip cold cream to soft peaks, sift in powdered sugar, and whisk to stiffer peaks. Makes enough topping for the /top/ of the cake. For decoration/crunch/mintiness, I sprinkled some crushed Thin Mints around the edge of the cake.